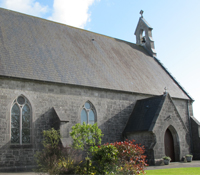 Sunday
10.00am
See weekly parish newsletter for other events.
The Church of Craebhnait (Cranáid) was blessed on June 30, 1861, by Dr. John Keane, Bishop of Cloyne. It replaced an earlier chapel-of-ease in the grounds of a Nagle family estate in the townland of Annakisha. The church is dedicated to a female saint of the Fifth Century who lived in the adjacent townland of Clenor.
The architect was John Benson (1812-1874). His design is in the French-Gothic style. The builder, P. Coleman of Mallow, used locally quarried limestone. The Altar is from the chapel of the former Presentation Convent in Doneraile. The reredos (altarpiece) is reputedly from Milan. The west gable features a large window with old English glass. The other stained glass windows were made by the Watson Family of Youghal in the 1920s and feature the scenes of the Annunciation, the Crucifixion and the Resurrection.